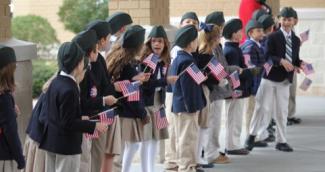 Perimeter Church Veterans Day Program
​23rd Annual Veterans Day Celebration
Perimeter School Veterans Day Program
Thursday, November 9, 2017, 9:45 AM
Perimeter Church Sanctuary
Perimeter School will be hosting their 23rd annual Veterans Day Program, honoring the veterans of the armed forces. Their unique program celebrates the service of veterans and preserves a sense of tradition and legacy for their students and future leaders of our country.
The program began as a classroom inspiration in 1995 and has since become an impressive and meaningful event that has grown beyond the walls of Perimeter Church and School. Last year there were over 2,500 people in attendance including 280 veterans from all branches of the military. Over the years Perimeter school has discovered that many veterans have never experienced any level of appreciation for their military service. Veterans have often left the program emotionally overwhelmed by the gratitude expressed for their service. The school's mission is to make veterans feel sincerely appreciated on this day.
Time & Place
This year the program will be held on Thursday, November 9, 2017 at 9:45 AM in the main auditorium of Perimeter Church located at 9500 Medlock Bridge Road, Johns Creek, GA, 30097.
Who is Welcome?
The program is open to the public, but they especially invite any and all veterans and their families and guests. They also encourage senior groups, veteran organizations, as well as police and emergency personnel to celebrate.
If this will be your first year to attend, be sure to sign our guest book with your name, address, and e-mail so they can send you invitations in following years. This personal information is used only for that purpose.
What to expect?
The program includes recognition of veterans, the procession, and posting of The Colors, patriotic songs sung by our students, reading of essays honoring veterans, a featured main speaker who is a veteran of the United States Armed Forces, prayer for our active duty veterans, and a slideshow honoring veterans from our community.
Parking
Handicap parking and building access is available, as well as curbside help for anyone needing assistance.
About the Main Speaker
Major Rodney Bullard is a graduate of the U.S. Air Force Academy who devoted 13 years to military service. Currently he is vice president of community affairs at Chick-fil-A. Prior to his work at Chick-fil-A, he was assistant attorney to the U.S. Department of Justice serving as a trial lawyer. Mr. Bullard is passionate about youth and education and serves on a number of organizational boards that reflect his values, such as The Salvation Army, Junior Achievement, City of Refuge, and more. Mr. Bullard grew up in a Christian home and came to faith at a very young age when he learned we really do have a God who cares and does answer prayer. He is an accomplished speaker and a great supporter of our veterans.
Reception
Following the main program all of the guests are invited to join us in the Fellowship Hall, meet veterans, and enjoy refreshments and fellowship. In past years, many veterans have chosen to share with the students some of their personal stories while in the service. These stories build a legacy of history for the next generation of Americans. In many ways this has been the most memorable part of the Veterans Day experience.
Veterans Are Encouraged to Wear Their Uniforms
Veterans are encouraged to wear their uniform or some military insignia indicating their branch of the service so you may be formally recognized during the main program when the Armed Forces Medley is played and informally thank you before and after the program.
If you are able to attend we encourage you to do so!